3 Different Ways to Condition Your Hair [Deep Conditioner vs. Leave-In Conditioner]
Deep Conditioner vs. Leave-In Conditioner
The conditioner you implement into your hair-care regimen is arguably the most important part of your routine. Think of it as the heart of your hair care system. Conditioners restore your hair with moisture and protein to enhance or maintain your hair's appearance in its natural state.  But with so many different types of conditioners in the marketplace, how do we know which ones are appropriate for us to use in our hair and what are the differences between them? This blog will discuss the differences and amount of usage you should apply when using a deep conditioner, and a regular everyday leave-in conditioner.  We will also briefly discuss the co-washing method.
Deep Conditioner:
A deep conditioner is a product that contains a concentrated mixture of conditioning agents consisting of moisture-boosting elements and proteins to reinforce your hair cuticle and bring moisture back into your hair strands. Deep conditioners are recommended to be used at most once a week. In order to enhance the effectiveness of the deep conditioner, applying heat to your hair will ensure the best penetration. 
Deep conditioning your hair will bring great benefits to your hair and scalp. The protein in deep conditioners will make your hair stronger and prevent breakage. They also ensure that your hair retains the moisture it needs and secures it deep within your hair fiber to support the hair until the next deep conditioning treatment. The moisture-boosting elements in deep conditioners will improve your hair's elasticity and manageability. Not to mention bring and secure moisture back into your hair, thus keeping your hair hydrated so that it may exude its natural beauty and luster.
Leave-In Conditioner:
A Leave-in conditioner is a product used to touch up and reinvigorate your natural curls by providing your hair with moisture. Leave-in conditioners come in various forms such as sprays and creams. It is recommended by hair-care professionals that the coarser your hair is the more you should lean towards creams while sprays should suffice for finer hair types. The conditioning properties in a leave in conditioner are not as concentrated as a deep conditioner and are therefore appropriate for daily use. Leave-in conditioners are usually composed of water and humectants to draw in moisture from the air that'll make your hair more elastic and manageable.
Implementing a leave-in conditioner that works best for your hair type will help your hair stay hydrated throughout the year despite the changes in climate. If you are in need of a good leave in conditioner use Caribbean Secrets Cosmetics Moisturizing Mist (instant hydrator) or Caribbean Secrets Cosmetics Crème.
Co-Wash:
A conditioner wash, a.k.a. co-wash, is a moisture-boosting method that is used in place of shampooing. When conducting this type of washing it is important to use a lightweight conditioner as opposed to conditioners that deposit heavy films onto your hair. This is important to note because if an inappropriate conditioner is used for washing, it can cause product buildup and the hair may begin to refuse moisture and other treatments. Thus resulting in hair breakage and other moisture retention related problems.
So if you choose to co-wash, stay away from conditioners that possess synthetic oils such as petroleum, petrolatum, mineral oil or silicone ingredients (anything with the suffix -cone; Ex: dimethicone). 
To adequately co-wash your hair you simply rinse your hair with warm water then detangle it with a wide-tooth comb. Afterwards apply the conditioner to your hair and let it sit for 7-12 minutes. Lastly rinse out your hair with cold water. 
If you are in need of a good co-wash we recommend using Caribbean Secrets Cosmetics Crème.
BONUS TIP:
Plastic Bag Greenhouse Shower Cap Method
If you are currently struggling with keeping your 4C hair hydrated an alternative to using a deep-conditioner on a weekly basis is to use the Plastic Bag Greenhouse Shower Cap Method before going bed to keep your hair hydrated throughout the day. Adding a plastic shower cap under your hair scarf, durag, bonnet, etc will trap in moisture and even capture what your hair may produce by perspiration (sweating). Before applying the plastic bag you must first add Caribbean Secrets Cosmetics Pure Unrefined Haitian Castor Oil or Caribbean Secrets Cosmetics Crème to a spray bottle and mix it with lukewarm water. Spray your hair until it is moderately wet. Tie with a plastic bag (w/o ink), or plastic shower cap, and then cover your head with a durag or bonnet. Remove your bonnet and plastic bag the next morning, shower, then spray your head again with the mixture you created with Caribbean Secrets Cosmetics Pure Unrefined Haitian Castor Oil or Caribbean Secrets Crème.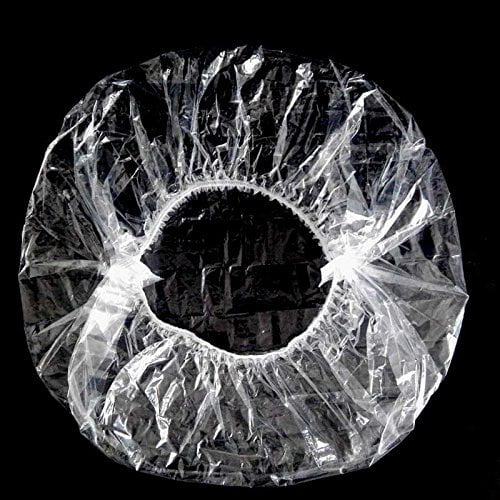 Stay Sexy and always remember…"The deeper the secret, the better the beauty."