3 Secret Tips to Make Your Beard Grow Faster [How to Thicken Your Beard]


The Caribbean Secrets Cosmetics Blog is dedicated to educating our community about hair care tips, techniques, and history that will help maximize your curly hair's potential. Your curly hair deserves to grow, be more defined, and stay moisturized throughout the day. We feel that having healthy hair is important and is vital to the productivity in our communities around the world because when your hair looks good you will be more confident and perform better in everything you do. We want to be apart of your journey. Our aim is to give your hair-care regimen an extra boost because we value you and your curly hair. We hope that this helps!
BEARD GROWTH
Do you want to make your beard grow faster? The truth of the matter is there are a variety of factors that affect your beard growth which you do not have much control over such as your genetics and time. However there are a number of things that you can control, such as your eating habits, environment, and beard regimen that may accelerate the process. Below we have provided 3 secret tips that you can use to enhance the growth of your beard.
  
1. DO NOT CUT YOUR BEARD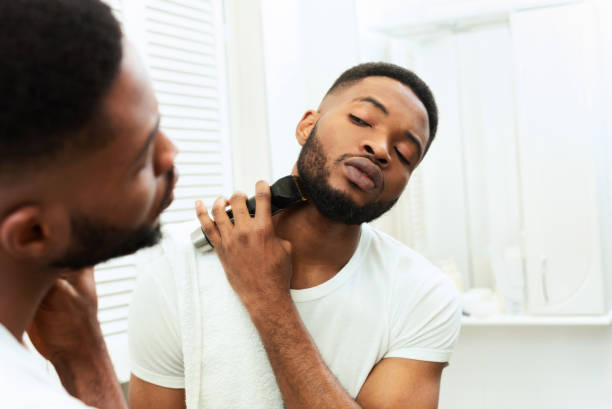 This is a very important tip. It is important to remain patient throughout your beard journey. Many people grow impatient with their process and cut their beard before they notice any gains. We urge the importance of not cutting yourself short (literally). For some men it may take anywhere between 1 month to 1 yr. to start seeing some serious gains, but that's ok because somethings worth having take time.



2. USE PURE UNREFINED HAITIAN BLACK CASTOR OIL

Applying
Pure Unrefined Haitian Black Castor Oil
to your beard will stimulate circulation to your beard and enhance growth. Pure Unrefined Haitian Black Castor Oil is packed with Omega Fatty Acids and vitamins that will nourish your beard and make it appear thicker and longer! We recommend applying Haitian Black Castor Oil to your beard once the morning and at night to promote growth.
Directions:
Wet a washcloth with hot water and apply to face. Let sit for 30 seconds, then apply Caribbean Secrets Haitian Black Castor Oil to your beard. Results guaranteed! 
3. ADD VICK'S VAPORUB TO YOUR NIGHT-TIME ROUTINE

Applying
Vick's Vapor Rub
to your beard at night will increase blood flow to your follicles thus increasing your beard growth. Vick's VapoRub contains ingredients such as Eucalyptus oil and Menthol; these are vasodilators which increases blood flow to your hair follicles and improves your hair's nutrition and support. We recommend adding this to your night-time routine no more than 3x a week.
Directions:
At night, wet a washcloth with hot water. Put washcloth on your face and let sit for 30 seconds. Apply Pure Unrefined Haitian Black Castor Oil and Apply Vick's VapoRub to your beard 3x a week. We guarantee results in 14 days or less!


*BONUS TIP*
Stay Sexy gentlemen and always remember..."The deeper the secret, the better the beauty."