7 Secret Caribbean Ingredients That Will Help Your Natural Curly Hair Grow Fast, Strong, & Moisturized [Ingredients to Add to Your Hair Care Regimen]
The Caribbean is full of natural resources that can satisfy all your cosmetic needs. Countries in the Caribbean such as Haiti has a richness in their soil that will assure you the highest quality of ingredients. We encourage you to implement the following ingredients to your Hair Care Regimen to make your hair grow faster, stronger, and more moisturized than ever before. 
1. Aloe Vera (found in any Caribbean Island)
Need something that will protect your hair and keep it moisturized throughout those hot and humid summer days? 
Aloe vera thrives in the Caribbean climate and has many cosmetic uses.  Aloe Vera is packed with enzymes, nutrients, vitamins, amino acids, and minerals that'lI protect your hair from the raging sun and help your hair retain adequate moisture. The enzymes in Aloe Vera help promote hair growth as they remove dead cells from the scalp enabling your hair to grow freely and abundantly. The amino acids in Aloe Vera promotes hair strength and adds shine to your hair causing frizz to be eliminated. Allowing you to rock any style you want for long periods of time. 
Fun Fact: The aloe vera plant is actually native to North Africa. It arrived in the Caribbean in the 19th century on trading ships from Africa.
2. Avocado Butter (found in any Caribbean Island)
Avocado comes in various different shapes and sizes. In the Caribbean, avocado can be very juicy. Avocado Butter is created from avocado fruit oil through a unique hydrogenation process which creates a soft, yellowish butter with mild to no scent. When avocado butter is applied to your hair it acts as a conditioner as it helps nourish and lock in moisturize for your curly hair. Avocado is heavily equipped with omega fatty acids, vitamin C, vitamin E, vitamin B6, potassium, magnesium, and folate. Avocado also includes anti-inflammatory properties that enables it to promote moisture and healing properties for hair and skin. Avocado's anti-inflammatory properties promote hair growth, allowing your to grow freely. Avocado will not only benefit your hair but it also will help your golden melanated skin illuminate as it helps fight off pimples, eczema, and wrinkles. The skin of avocado create the perfect exfoliator as they possess anti-aging properties to maintain smooth soft skin. 
Fun Fact: Avocado is a fruit.


3. Coconut Milk
Add coconut milk to your hair care regimen. Filled with proteins and fatty acids, coconut milk will leave your curls feeling softer and stronger than usual, especially if your hair type ranges from 3A-4C. Additional benefits of using coconut milk includes an improvement in manageability, and repairing dry scalp. Coconut milk also eliminates dandruff, and prevents dryness from reoccurring in your scalp. To use coconut milk as a deep conditioner mix it in a polar oil such as Caribbean Secrets Haitian Black Castor Oil or Hemp Seed oil and let sit in your hair for 10-15 minutes under a hair dryer. To get the most benefits of the coconut milk do not heat it before applying it to your scalp as too much heat will kill some of the coconut milk's nutrients.
Fun Fact: Coconut milk is the result of combining coconut water with coconut meat.
4. Hibiscus (found in most Caribbean Islands, very popular in Haiti and Jamacia)
Hibiscus flowers help nourish your scalp with its high mucilage content, and protects your scalp from drying out. When crushed into a paste its slimy consistency will make your hair soft and smooth. This flower is a must have and should be added to your hair care routine for hair growth and moisture retention.
Fun fact: Hibiscus is the national flower of Haiti.
5. Coconut Oil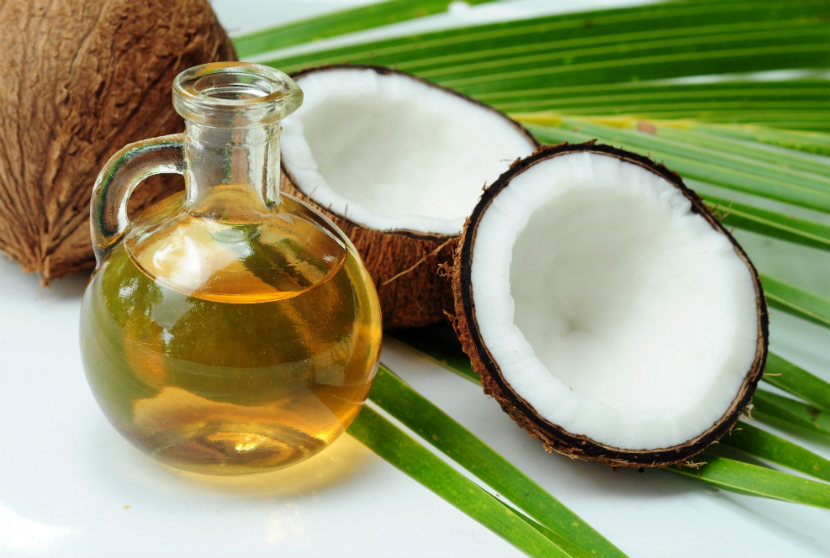 Out of all of the ingredients listed in this blog, Coconut Oil is the most frequently used Caribbean ingredient. Its popularity has sprung from its ability to be easily absorbed by the hair and skin. When applied to the hair tames frizz, increases manageability, and enhances your natural curl pattern. This ingredient is super nourishing and can drastically improve your hair care regimen if it is not already implemented into your routine.  When applied to your skin, coconut oil's antimicrobial qualities will help fight acne, heal wounds, and keep your skin moisturized throughout the day. 
Fun Fact: Ingesting 2 Tablespoons of coconut oil a day can help you loose belly-fat and improve your overall health.
6. Mango Butter 
Mango butter is extracted from the kernel of the Mango fruit. Similar to Shea Butter, Mango Butter is packed with fatty acids that are good for softening curls of any type. Packed with fatty acids and vitamins A, C, D, E, and B, Mango butter will help protect your hair in extreme weather conditions such as humidity, the scorching sun, heavy rain or freezing snow. Mango butter also does a great job with sealing your hair to keeping your hair fully hydrated for a long period of time. 
When used on your skin Mango Butter will boost your skin's elasticity leaving your skin looking firm and smooth. Mango butter also protects your skin in harsh weather conditions, similar how it protects your hair.
Fun Fact: Medicinally Mango Butter helps promote cell regeneration which keeps your skin looking youthful.
7. Haitian Castor Oil (made in Haiti)
Similar to the other ingredients on this list Haitian Castor Oil has many uses. However, the most important thing that separates this oil from the others on this list is Haitian Castor Oil's key component; ricinoleic acid. Ricinoleic acid is the main fatty acid found in Haitian Castor Oil. This fatty acid allows Haitian Castor Oil to deeply penetrate your hair and skin to get the most benefits from the oil. When applied to your scalp Haitian Castor Oil will enhance the health of your hair follicles and lock in moisture resulting in the promotion of hair growth, the prevention of hair loss, and maximum moisture retention. When applied to your skin Haitian Castor Oil becomes an effective moisturizer that deeply penetrates to soothe and soften any dry patches on your skin all the while stimulating elastin and collagen production. This is one of the reasons why Haitian Castor Oil works so well for those who suffer from dry skin. Also it has been proven that Haitian Castor contains higher contents of ricinoleic acid than any other oil in the marketplace. Thus, Haitian Castor Oil should be implemented into your hair and skin care regimen to improve your overall appearance.
Fun Fact: The use of Haitian Castor Oil is a tradition that is about 100 years older than the use of Jamaican Black Castor Oil. We recommend trying Caribbean Secrets Haitian Black Castor Oil. Caribbean Secrets Haitian Black Castor Oil is the purest in the market and will keep your hair moisturized, make your hair grow, feel healthy and strong. We work directly with farmers in Haiti to preserve the oil's quality and authenticity. To see how our Haitian Castor Oil is made click on the following link. How we make our Haitian Castor Oil.
As always, stay sexy! And always remember, "The deeper the secret, the better the beauty."